A Short Guide to Gundam Model Kits

Maybe you've just stumbled across our site and have no idea what you'd be letting yourself in for if you bought some of the model kits that we have for sale on the Gundam Mad website. Or maybe you've already built some of the simpler kits but are not sure what's involved in taking on one of the larger or more complex ones.....

First off let's start by letting you know that these kits are not difficult to assemble, it's just that the bigger the kit and the more complex it is, the longer it will take you to assemble. But the same basic principles of construction apply to them all such as:
- Multi coloured plastics - no painting required!
- All parts clip together - no glue required!
- Assembly instructions are easy to follow pictures - no need to learn Japanese!

Gundam model kits, otherwise referred to as 'Gunpla' or 'Gundam Plamo', come in a variety of sizes ('scale') and complexities ('grades'). Here we present a brief guide which aims to give you a clearer understanding of some of the models that are available for purchase from Gundam Mad.

Sizes (Scales)
Scale refers to how many times smaller the kit would be compared to the 'real' Gundam it's based on. For instance a 1/144 scale kit is 144 times smaller than the Gundam it's based on.

The more common scales are: 1/144, 1/100 and 1/60th. However there are other less common sizes available such as 1/400 or 1/700 - these smaller scales are generally used for very large items such as ships.
The comparative sizes below are based on the RX-78 Gundam in different scales. As you can see the RX-78 starts at 9cm and goes all the way up to 31cm in height starting from the smallest models at 1/200 scale up to the impressive 1/60 scale kits.
It would be fair to say that the actual sizes indicated would a pretty fair average for most kits in a given scale. However, some kits can be smaller or larger than others of the same scale - obviously this depends on the 'real' size in the first place.
Some kits (like the RX-78 used in the image above) are available in all the major scales. Whereas some others may only be available in one or two scales.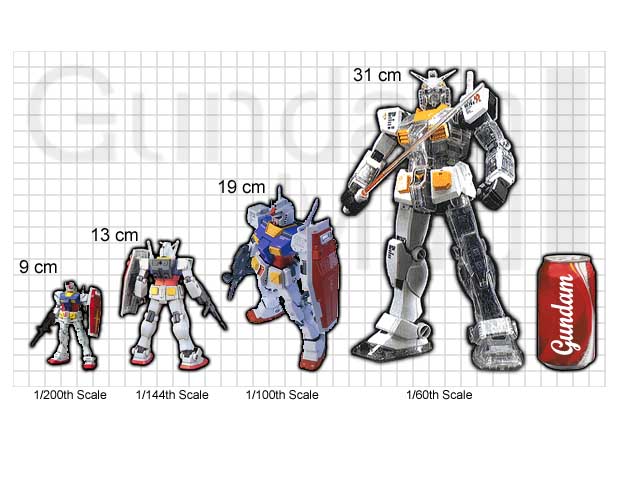 Complexity (Grades) The are quite a few 'grades' of kit and generally these would be:
No grade
High Grade
Master Grade
Perfect Grade

The higher up in size (scale) you go, then generally the more parts there are to assemble.

No Grade
These kits are the entry point and consist of two or three sprues (a moulded plastic frame that holds the parts) and some poly caps (flexible joint pieces used for the moving parts like knees etc.). The total part count is typically around 50 to 100 pieces. The sprues come pre moulded in multiple colours allowing a great finish without painting. Of course if you have the skills and the time you can finish and paint these kits to a very high standard. Expect to be able to build one of these models in around an hour or so.

High Grade
The High Grade kits are where the you will find much better levels of detail, due to a parts count of around 100 to 150 parts. The finished kit will have movement in all the joints, such as head, arms, elbows, legs, knees and ankles, thus offering more possibility.


Master Grade
The range of Gunpla kits produced by Bandai in this range now totals over 100. Again what you will find is another increase in the number of parts, with typically 150 to 250 parts. You'll also find an increased number of colours used for the parts, typically between 4 and 6 colours will be used. There may also be some metal parts, plated 'metallic finish' parts and parts that light up which require wiring, on some of more expensive versions. Expect to put serious time into kits from this range! But the effort will be worth it, as this range offers an even more 'lifelike' poseability due to the more complex assemblies involved.

Perfect Grade
Now we're talking about the current absolute pinnacle of Gunpla!
These models are very complex and will usually need to be built over the course of several days. They feature a massive amount of parts - anywhere between 600 and 2000 parts. You will certainly find pipes, wiring, pistons, springs, metal parts and fixings in most of these kits. There is an amazing amount of detail just in the internal structure - then the outer body armour will clip on over the top. If you have the patience to build one of these models you certainly won't be disappointed!

Assembly
As mentioned at the beginning of this article, all of the kits follow the same easy principle of assembly:
- Look at pictoral instructions which shows which parts are needed.
- Cut required parts from sprues (which hold all the parts) with sharp sidecutters.
- Trim parts that have been removed from sprue with a sharp knife.
- Assemble parts as per instructions - no glue is required!
- Once kit is fully assembled you then apply any decals or stickers supplied.

After assembly
Once a kit is assembled you can sit back and admire your handywork!
Those that want to add a little detail should purchase a .05mm pigment marker and use this to detail the panel lines - this is where you use this pen inside all the very fine mould lines which are in many of the parts. This really does make a difference to the appearance of a finished kit.

You can even use some of our paint markers - these are used to paint very small parts or areas. As they are a pen with a nib, they are very easy to use and apply.

If you're looking for something make your finished 1/144 or 1/100 kit display look a little better then you could purchase a 1/100 display base. The display base is a scale representation of a hanger bay, against which any Gundam kit looks well presented.

We hope you have found this article of use and we aim to update it over time. If you have any comments or suggestions for this article, please feel free to contact us.